Meet The TEAM
Go Laadli Runners is the high-octane wing of Go Laadli's fundraising apparatus that aims to raise funds for Go Laadli by participating in endurance or long distance running. The team is comprised of highly motivated and deeply passionate individuals who believe in the organization's vision and are committed to support it's long term goals.
The team's efforts will power the upcoming Lead Like a Girl Challenge and sustain our leadership development programming.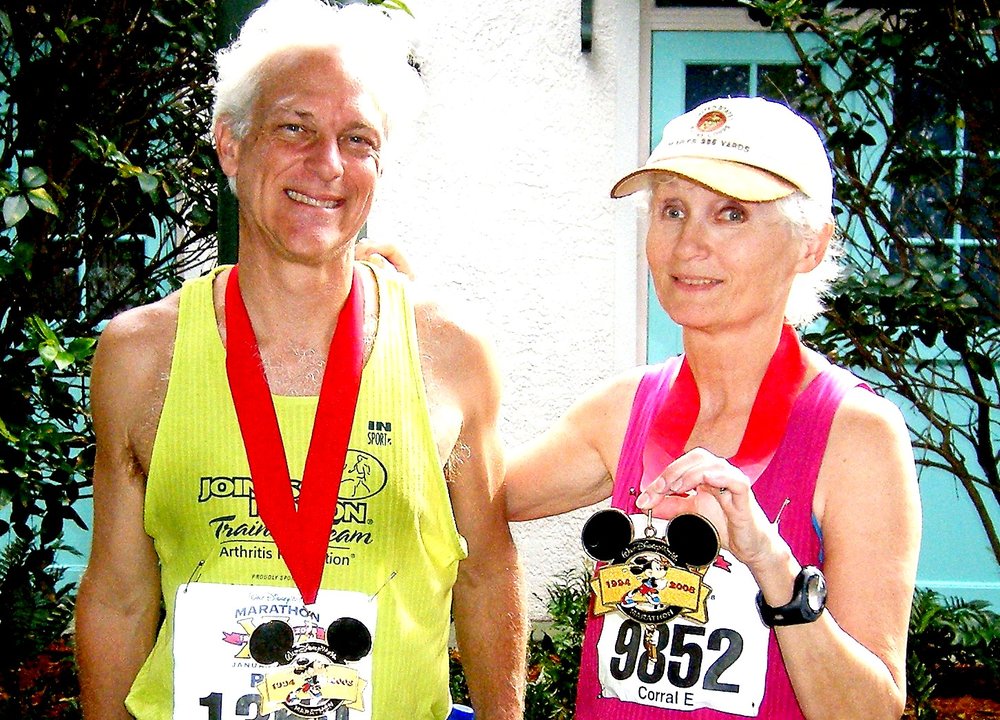 "Rick and I are very happy to be affiliated with Go Laadli - Lead Like a Girl, Empowering Girls to be Changemakers. Running for a cause is such a wonderful endeavor and a win-win situation. You become healthier, make new friends and support a very worthwhile project."
Rick Swenson
I have spent more than 40 years running and have been involved in many different facets of the sport. I used to sell running shoes for over 20 years from the mid 1970's until the late 1990's and was regarded as an expert in the field. In 1990 I left this business and used my experience and knowledge to begin coaching charity teams. I have had the humbling opportunity of coaching runners for the Arthritis Foundation's Joints in Motion marathon team for sixteen years and I still manage to coach an offshoot of this group even today. In 2006 I added 'Asha Running Team' at the University of Florida to my collection of charity groups trained. I have trained them to run the Gate River Run 15k held in March ever since. Along the way I have also spent five springs coaching 12 to 14 year old girls running the 400 meter, 800 meter and mile at the Alachua County Girl's Club.
In 2006 I reentered the equipment business as a manufacturer's representative for The Stick, a self massage bar, often regarded as the original personal mobility device. My experience and love of the sport allows me to relate to all runners from beginners to veterans. My own running experience has included road races from 5k to the marathon and everything in between. I am still out on the roads today, older and slower but experiencing the joy of running!
Dana Moser
I have always been interested in track and field but I attended high school at a time when only boys were on the track team. We did various events in physical education classes but that was all. I loved watching the running events at the Olympics, buying my first TV set so I could watch the Mexico Olympics in 1968. So running and racing has always been on my radar.
I started running in 1984 after watching my friends run the NYC Marathon. I had helped one of them in her long runs by riding my bike with her. I accompanied her to NYC and the rest is history -- at least for me. I came back, tied on my gardening sneakers and took off. I also joined the Florida Track Club where I learned how to run properly (and bought better shoes) and met some very nice people who became my lifelong friends.
I was an okay runner in my age group but I didn't start until I was almost 40 years old. I must say running really did change my life in a very good way. It relieved a lot of stress in my life to the point where I no longer had migraine headaches -- truly a blessing. It made me stronger so I could weather health issues. It gave me a core group of friends who enjoyed being outside in nature. And in the last several years, I started doing destination races where I would fly/drive all over the country with friends, running a race and then visiting and hiking in those areas. And then there's the "bling." Those race medals make great souvenirs of trips and places visited.
My first race was a one-mile prediction run put on by a few members of the Florida Track Club for New Year's Eve a few month after I accompanied my friend to NYC. One of those kind people came up after the run and said "that was a worthy effort." "Hummmm," I thought wondering if that was a compliment or not.
Over the following years, those folks at that New Year's Eve Party/Run became very good friends and running partners. I never really stopped running and racing from that time and the various friendships I have found through running have defined my life. From a friend who lived to 101 (and he didn't start until he was in his 70s) to my 8-year-old godson (who is now 36), I have loved the camaraderie and the level playing field that running races brings. Everyone is on the same page, running the same distance, having similar experiences.
I've run every distance from 200 meters on the track to the marathon. I've run in the desert of New Mexico in a sandstorm, I've run down a mountain in NC, raced through Disneyland in California, up and down a mountain near Area 51 outside Las Vegas, around a cemetery on Halloween in Jacksonville, around a Civil War battlefield in Georgia and attended every one of the Disney World marathon/half marathons for the last 24 years.
Of course, I've slowed down over the years which has made me the ideal person to shepherd new runners into the sport by walk/running to get them and their bodies acclimated to the sport of running. I have been doing that with the UF Asha running team and it has been one of my most satisfying experiences. Having road races as a goal helps keep new runners on track to continue training and ultimately having wonderful experiences. Truly it becomes part of your self definition to say, "I am a runner."
I can't wait to meet you all even if it's virtual. I'm sure that eventually we may find ourselves at the same events in person. Here's to a happy, healthy and worthy 2018.